ISAO has a department with investigative capabilities, enabling it to work within the framework of due diligence or KYC (Know Your Customer) procedures. We can thus support our clients in their high-level recruitment, their M&A operations, their financing projects or the validation of partners (financial or technical).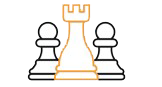 Supervised by a specialist in economic intelligence, our teams are also able to carry out market surveys and investigations for the benefit of brands and right holders, in order to identify fraud, counterfeiting or smuggling networks.
We have integrated advanced mapping capabilities into this department, as well as legal skills that allow us to work in collaboration with our clients' lawyers and government agencies in a transparent manner. Within the framework of these trademark protection activities, ISAO has a partnership agreement with the National Committee for the Fight against Counterfeiting.